Vest 211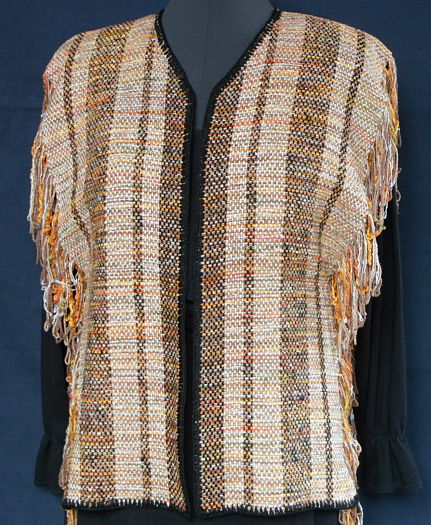 This is a great accent to any outfit! It is light-weight and the little fringes will swing with your every step. Wouldn't you just love to wear this on your next outing? The fringes along the edge also serve as ties so you can adjust the fit to just what you want.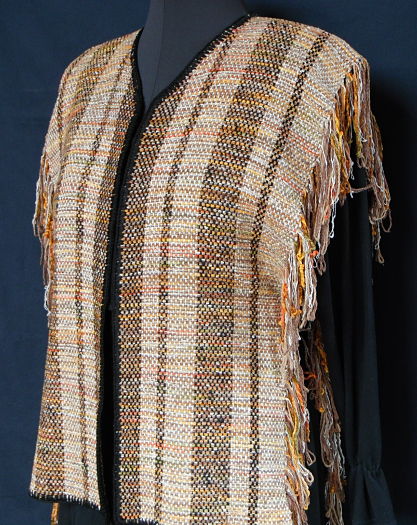 The colors of this vest remind me of autumn -- the oranges, yellows, browns and pale greens that are so lovely. Those are the colors of the rayon chenille that I used for the weft (crosswise threads) in addition to a tiny cream-colored seed yarn to give just a little texture. For the lengthwise stripes I used a taupe-colored silk/rayon blend, some black silk/rayon blend, some cream-colored cotton/linen blend, and a black cotton with a tiny metallic binder. When the light is just right, you can see the twinkle in some of the stripes.
The texture of this piece is soft but not entirely smooth. I used the same black silk/rayon blend yarn for the crocheted trim around the neck and down the front opening. The length from shoulder to bottom is 25.5" (65cm) and the width of the back is 18" (46cm). The width of each front half is 9" (23cm). With the sides being open, you can tie a fringe wherever you need and however snugly you need to fit your size.
My finishing process for this piece was to gently hand-wash the material, wrap it in towels and press to remove as much water as possible, then hang on a line to dry. I then straightened the fringes, stitched and then cut open the front and then crocheted the edges. You may wash it gently or, alternatively, you may have it dry-cleaned.