Vest 207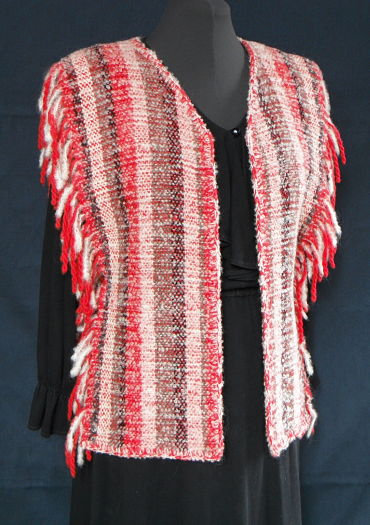 When you need a fun little vest that has some personality, this will do the job! It's light-weight but offers some warmth like wool is known for. The fringes along the edge will move with your steps and also serve as ties so you can adjust the fit to just what you want.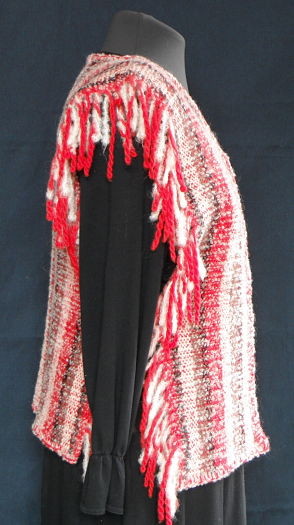 I chose the colors for this vest because I wanted it to stand out in a crowd. Red is a power color so when you mean business, you can wear this!
Another feature of this vest is its texture -- I used a loopy wool in some of the stripes. Then I combined one strand of smooth red yarn with one strand of white loopy yarn for the weft (crosswise threads) and that gives the overall fuzziness -- there are hundreds of little loops all over. I used the same pair of yarns for the crocheted trim around the neck and down the front opening. The length from shoulder to bottom is 26" (66cm) and the width of the back is 17" (43cm). The width of each front half is 8.5" (21cm). With the sides being open, you can tie a fringe wherever you need and however snugly you need to fit your size.
My finishing process for this piece was to gently hand-wash the material, wrap it in towels and press to remove as much water as possible, then hang on a line to dry. I then straightened the fringes, stitched and then cut open the front and then crocheted the edges. You may wash it gently or, alternatively, you may have it dry-cleaned.