Ruana 336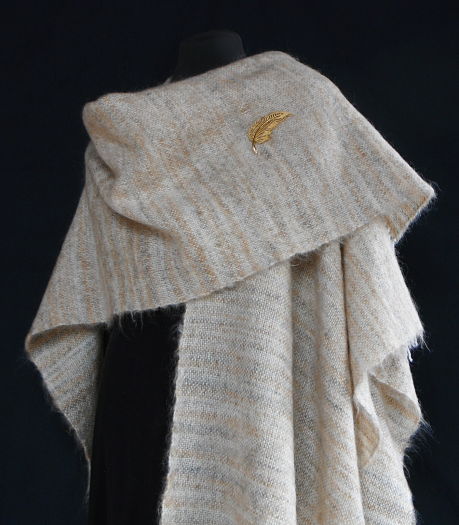 A ruana is a wonderful thing! Sometimes known as a poncho, it can be worn many ways and for many occasions. You can wear a belt across the front sections and leave the back loose. You can place one front side up and over the opposite shoulder. You can wrap each front side up over each opposite shoulder or leave both sides down to hang freely. Even when you're not wearing it, you can fold it and use it as a lap robe. I'm sure you will think of more uses for your ruana!
$179.95 + $13.60 Shipping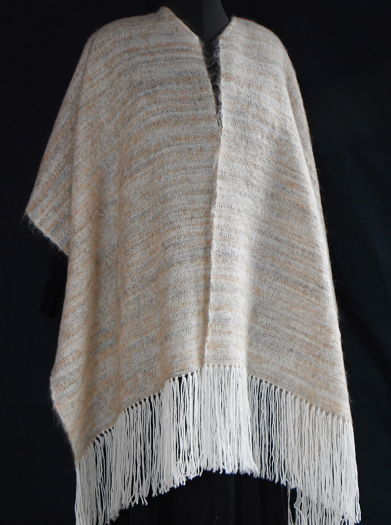 This particular ruana is handwoven using cream-colored wool for the warp (lengthwise threads) and sand-colored brushed wool in shades of tan and gray for the weft (crosswise threads). As I wove it I used a small brush on one face of the fabric to bring out the soft texture of the brushed wool, giving it even more loft. After the weaving was done I carefully knotted the fringe and then gently washed the fabric to full it and remove any sizing from the yarns. After drying and straightening the fringes I stitched a seam up the center back and removed and then hemmed a small tear-shaped section of fabric so the ruana can lay nicely around your neck.

The neutral coloring of this piece will go with almost any outfit. The overall dimensions are 48" wide x 65" long (122cm x 165cm) plus 8" (20cm) of fringe. From the center back of the neck down to the start of the fringe is 31" (79cm). This size will fit most people (but feel free to contact me if you need something different). For care I recommend hand washing gently, block dry with a towel, detangle the fringe and then lay flat or over a line to dry. Then you can press it as needed. Alternatively you can have it dry cleaned.