Throw 612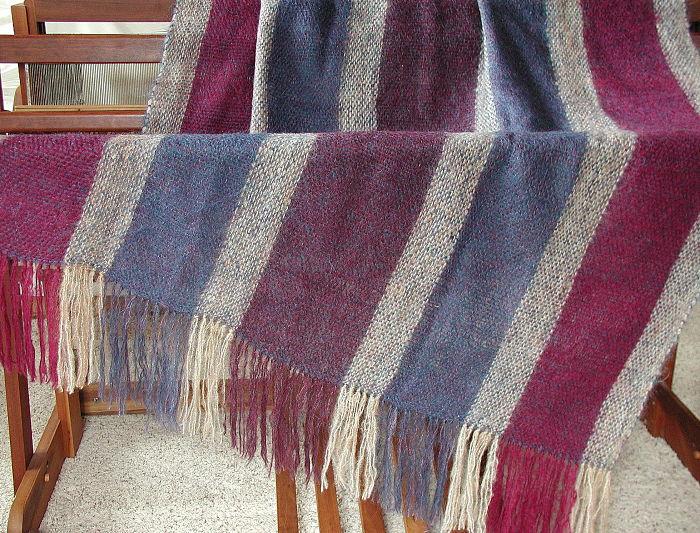 Whether you have a rustic cabin, a cozy cottage, or a traditional home, this mohair and wool throw will satisfy your search for luxurious comfort. It is soft and warm, yet light as a feather. Your cat will absolutely love it but you won't want to share it with your cat! The measurements are 46" x 65" (117cm x 165cm) plus it has 7" (18cm) of carefully hand-knotted fringe at each end. It would be perfect for those chilly spring evenings while lounging on your front porch.
$189.95 + $13.60 Shipping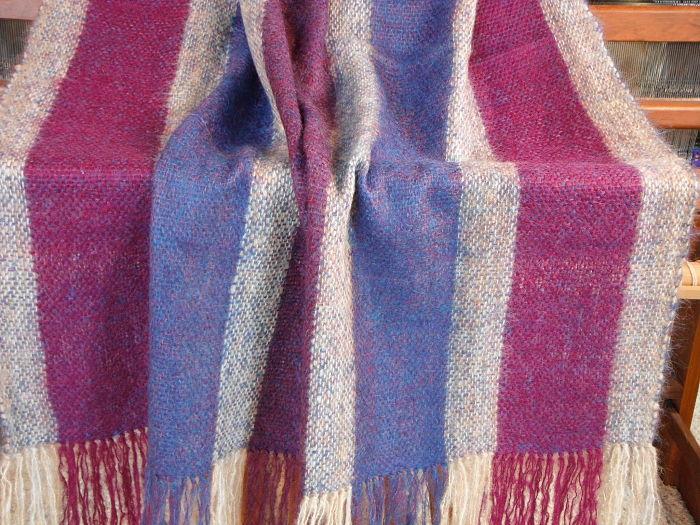 The warp (lengthwise threads) is both brushed wool and brushed mohair while the weft (crosswise threads) is completely brushed mohair. The colors are bands of tan, plum, and blue. As I wove this blanket I used a small brush to fluff the fibers on the top of the fabric; one side is fuzzy and the colors are more blended, the other side lets you see the interlacement of the threads more clearly and the colors are more distinct.
When the light shines on it just right, you can see the shimmer of the mohair fibers, giving it an iridescent twinkle. This beautiful throw will keep you warm and cozy whether you use it over the back of your couch or at the foot of your bed.
As part of my finishing process, I have gently hand-washed this piece, then rolled it in a towel and applied pressure to remove most of the water. After straightening the fringes, I hung it on a line to dry. You can do the same or, alternatively, you can have it dry-cleaned.