Throw 610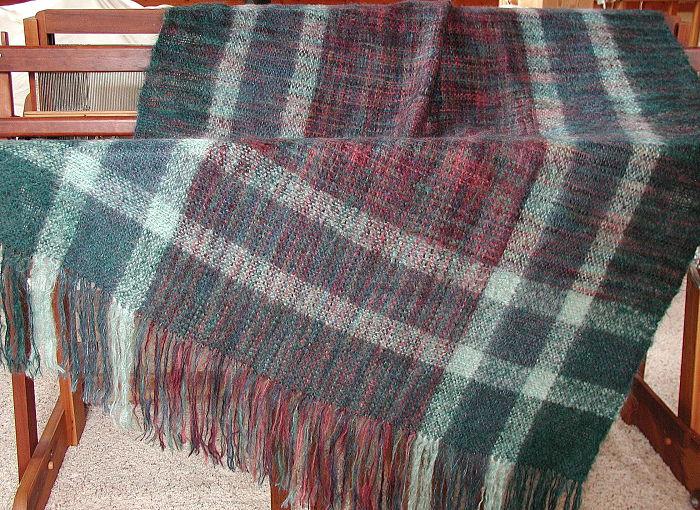 This is my favorite blanket. Whether you have a rustic cabin, a cozy cottage, or a traditional home, this mohair throw will satisfy your search for luxurious comfort. It is so soft and warm, yet light as a feather. It measures a generous 45" x 67" (114cm x 170cm) plus it has 8" (20cm) of carefully hand-knotted fringe at each end and yet it weighs only a pound (~500g). If you can imagine being hugged by a cloud, this would come close to that.
$199.95 + $13.60 Shipping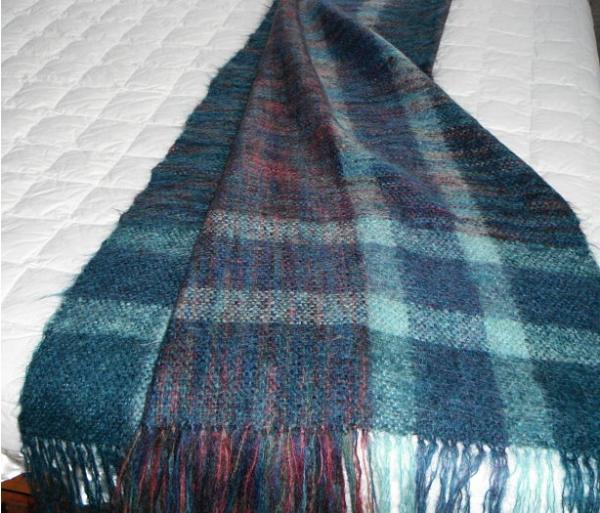 Both the warp (lengthwise threads) and the weft (crosswise threads) of this cuddly throw are brushed mohair. The colors are bands of teal and sky blue surrounding a field of variegated burgundy, rose, royal blue, teal and olive (the yarn was aptly named 'dragonfly'). As I wove this blanket I used a small brush to fluff the fibers on the top of the fabric; one side is fuzzy and the colors are more blended, the other side lets you see the interlacement of the threads more clearly and the colors are more distinct.

The stripes in the warp are repeated in the weft giving the overall 'plaid' look to the blanket. When the light shines on it just right, you can see the shimmer of the mohair fibers, much like the wings of a dragonfly in the sunlight. This beautiful throw will keep you warm and cozy whether you use it over the back of your couch or at the foot of your bed.
As part of my finishing process, I have gently hand-washed this piece, then rolled it in a towel and applied pressure to remove most of the water. After straightening the fringes, I hung it on a line to dry. You can do the same or, alternatively, you can have it dry-cleaned.