Silk Stole 400H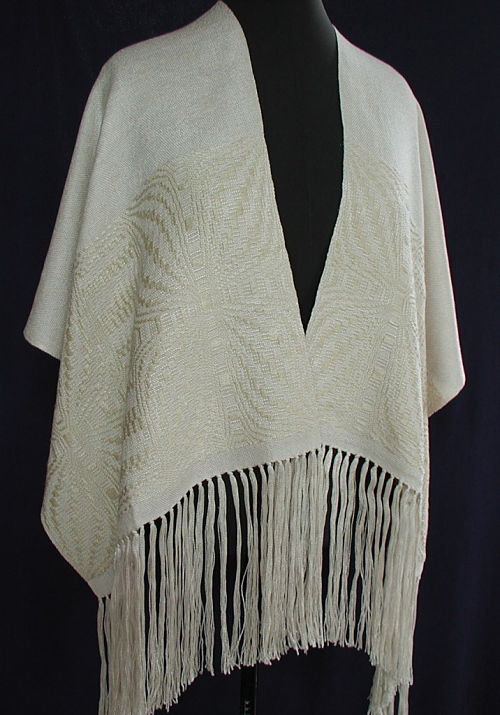 This handwoven stole is woven entirely of silk and is just about my favorite item to weave. Each end has a border pattern called "Blooming Leaf" which is an old traditional pattern that was used on coverlets.
$174.95 + $13.60 Shipping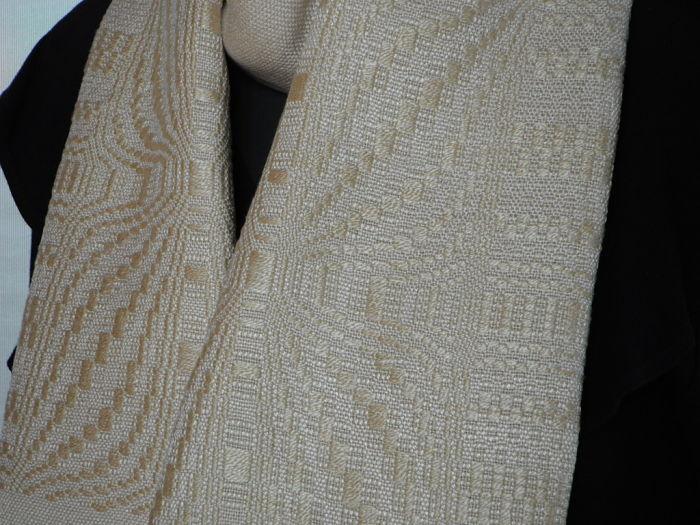 My very first attempt at overshot was making a stole very similar to this one. Ever since, I have tried variations in colors and fibers but this one is simply elegant.
This stole has the pattern in a creamy white on a whiter background, but as you can see by looking through my shop, it can be done in many different contrasting colors.
You can wear this stole around your shoulders, over your head as a scarf or, for a change-up, it is lightweight enough to be worn as a scarf, as you can see by looking at the pictures.
The dimensions of this stole are a generous 18.5" x 67" (47cm x 170cm) plus an additional 9" (23cm) of carefully hand-knotted fringe for an even more luxurious drape.
The overshot pattern at each end of the stole measures 12.5" (32cm) in length.
As part of my finishing process, this piece has been gently hand-washed, wrapped in towels and pressed to remove as much water as possible, then hung on a line to dry.
After straightening the fringes, I ironed the wrinkles out. Alternatively, you may have it dry-cleaned.