Ruana 338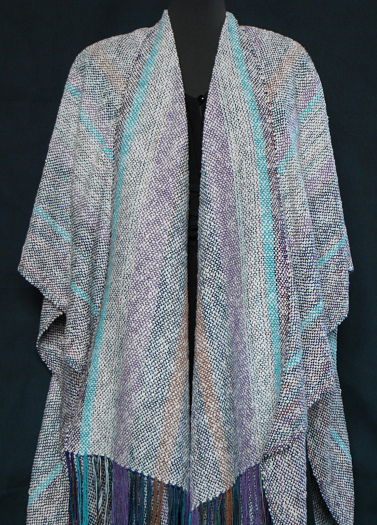 If you're thinking this ruana looks a lot like Ruana 339, you're right! It was woven on the same warp threads but for this one I used a pale pink cotton/rayon slub for the weft. This one has more texture and a little more sparkle to it. If you look at the last picture on this page, you'll see the 'sparkle'.
$179.95 + $13.60 Shipping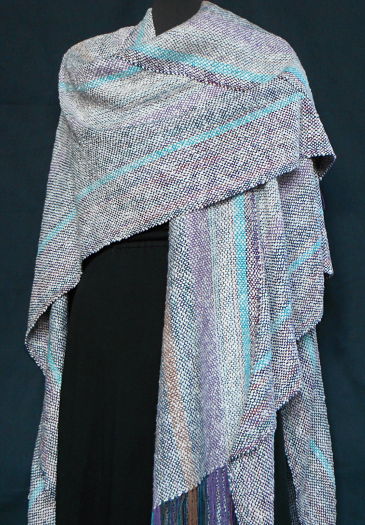 A ruana is a great addition to your wardrobe! Sometimes known as a poncho, there are many ways you can wear it and for so many occasions. You can wear a belt across the front sections and leave the back loose. You can place one front side up and over the opposite shoulder. You can wrap each front side up over each opposite shoulder or leave both sides down to hang freely. Even when you're not wearing it, you can fold it and use it as a lap robe. I'm sure you will think of more uses for your ruana!
This particular ruana is handwoven using a variety of silk and silk/rayon yarns in stripes of brown, turquoise blue, purple, teal and pale blue for the warp (lengthwise threads). The weft (crosswise threads) is a cotton/rayon slub thread in the palest shade of pink. This weft yarn is the reason for the 'nubby' texture you can see. You won't find yarns like this used in mass-produced garments. After the weaving was done I carefully knotted the fringe and then gently washed the fabric to full it and remove any sizing from the yarns. After drying and straightening the fringes I stitched a seam up the center back. Instead of cutting and hemming an opening at the neckline, this fabric had a natural drape to it that inspired the turned-back front edges. I have stitched these front edges along the diagonal and this gives a slimming effect to the piece. You can still wear it in any of the ways described above.

The jewel tones and rich earthy colors of this piece are slightly muted due to the pale pink weft and will go with almost any outfit. The overall dimensions are 47" wide x 68" long (119cm x 173cm) plus 7" (18cm) of fringe. From the center back of the neck down to the start of the fringe is 35" (89cm). This size will fit most people (but feel free to contact me if you need something different). For care I recommend hand washing gently, block dry with a towel, detangle the fringe and then lay flat or over a line to dry. Then you can press it as needed. Alternatively you can have it dry cleaned.