Cape 515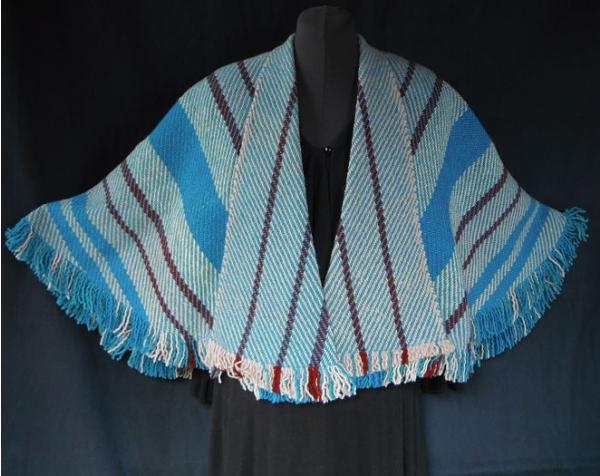 This is a great casual cape! It's soft and snugglly, but practical and ready to keep you warm on those chilly mornings. You can toss it over your shoulders and you're ready to go! Or you can fold it up and use it for a lap robe. It's great to wear in the car, too -- not so long that it hangs out the door... The pockets are constructed by using the turned-back lapels and then stitching along the hem. Great for keeping your hands warm or tucking your phone into.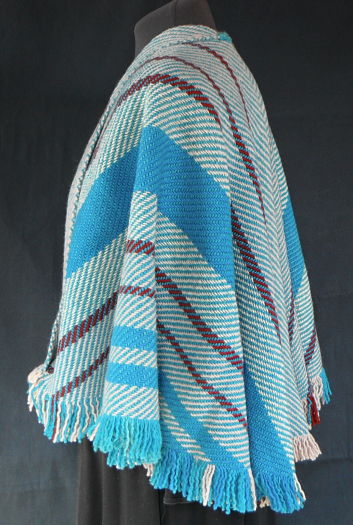 The overall shape of this piece, if you laid it flat on a table, is a circle. I wove the length of fabric in a 2/2 twill to enhance its draping quality. After dividing the fabric in half, I placed the halves together so the diagonal lines form a pleasing 'V' shape. I stitched a seam up the back and then folded back the lapels in front and fastened them to form pockets. The neck area is reinforced with a crocheted edging. The length from back of neck to bottom edge of fringe is 27" (68cm).
I chose two shades of gray, a blue and a wine color for the stripes. The weft (crosswise yarns) is another shade of blue that I had hand-dyed. It is quite warm even though lightweight. The same pattern could be done using other fibers and colors if requested
As part of my finishing process, this fabric has been gently washed by hand and pressed before assembling. I recommend gentle washing, spin dry and then lay flat to dry (to avoid felting the wool). Alternatively, you may dry-clean it.